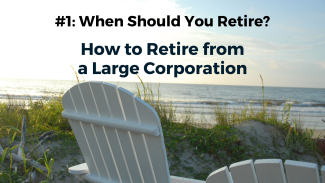 How to Retire from a Large Corporation #1: When Should You Retire?
The former United States Secretary of State, Henry Kissinger, once stated:
"If you do not know where you are going, every road will get you nowhere."
Are you like many people we work with in Harrisonburg Virginia and in the Shenandoah Valley who do not know where their retirement plan is headed? 
So many folks have a set date in mind and declare boldly that they will step away at age 65, no matter the consequences. Others set a date based on some type of milestone, such as 30 years with their company, or the date that they can receive their full pension benefit. Still, others just put their head down to keep working and do not want to think about retirement at all because it seems so far away. 
For anyone in the third category, I will make you a promise: One day life will change. Your retirement will be real and you will circle the date with a big red Sharpie on your calendar. 
Hopefully, you will pick the date because of a positive change in life. Maybe you will feel led to spend more time with your grandkids, and this pull will outweigh the satisfaction you receive at work. 
But there's also the possibility that you may quit working because of a negative event, such as an illness for you or for someone you love. 
Your retirement may last 30 years or more, and you did not work this long and hard to struggle financially in retirement…So is now the time for you to get more serious? Regardless of the circumstances, the day will come when you pull out your red Sharpie, so it is important to begin working towards that date right now. 
Let's take the advice from Mr. Kissinger: Let's figure out where we are going. 
So where do you begin?
First, let's define the optimal retirement date for you. Imagine for a moment that money is not a factor. In other words, if somebody dropped $10 million on you right now, what would you do? Would you retire right away? 
Do you have job-related projects that you would like to see through before you retire? 
If you are married, does your spouse enjoy their job, and do you feel like you want to continue working as long as they work? 
Do you see yourself working part-time in retirement to stay engaged in the workforce? 
Does the idea of finding a job that provides more of a sense of purpose excite you?
Maybe you want to work but you would love some flexibility so you can travel or enjoy a sunny day out on the lake?
Based on the answers to those questions, does an ideal retirement date come to mind? If so, pause for a moment and write down that date on a piece of paper. Write down a specific date you want to retire, and then write down your age when that date rolls around.
If that date is in the next five years (or yesterday!), then we will call you Right Now Robin for the remainder of this blog series. If you are Right Now Robin, you cannot procrastinate any longer and should get down to business.  Life is too short to spend much more time in a job that you do not enjoy, so if you haven't run all of the numbers, get started on them right now. It may not be easy, but it is very much worth it.
We find that many people simply put their heads down and throw money in their 401(k)s while having no idea of how much they are actually spending, but you can't afford to ignore the numbers any longer and procrastinating is not an option. Get proactive and begin planning with real numbers, exploring real options. 
There are, however, many people we know who still enjoy their jobs and plan to continue working for several more years. Is this you? If so, we will call you Take Your Time Terry for the remainder of this blog series. You can still begin working on the numbers, but you have the luxury of time. 
Now that you know whether you are Robin or Terry, take the following next steps:
1. Open up a Word or Google Doc file on your computer
2. Name it "Financial Independence Plan for (insert your name here)"
3. Type in your date (no red Sharpie required)
4. Check back to our website often for more information and consider downloading our guide: How to Retire from a Large Corporation
As the famous Yogi Berra proclaimed one day, 
"If you don't know where you are going, you might wind up someplace else."
This is the first of many blogs we are writing to help you finish strong in life. Much of the content is pulled from an eBook we wrote entitled "How to Retire from a Large Corporation." Click here to download the document. If you would like to discuss any of these topics in more detail, you can schedule a time to talk through this link.