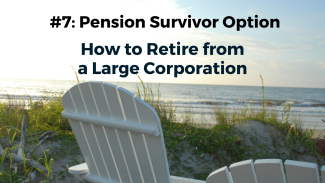 How to Retire from a Large Corporation #7: Pension Survivor Options
Are you like many people we know in Harrisonburg and Rockingham County who are excited about their retirement years, but are overwhelmed by the complexity and all of the numbers in front of you? When should you draw Social Security? How much will healthcare cost? How much will you actually spend in retirement? 
All these numbers are important and you should absolutely get a handle on them as you get closer to the date; but do not get overwhelmed with the complexity of the task. The goal is to stay focused on the big picture and break down your decisions into simple action items.
This blog is the 7th in a series, "How to Retire from a Large Corporation" and is designed to accompany an e-book by the same name.
Are you fortunate enough to have a pension from your company? If so, then you should celebrate, because your children will probably not have the luxury of a pension when they retire. The next few blogs in this series were written to equip you to make the very best decision for you and your family.
Before we dig in, here is an important disclaimer required by our back office: A plan participant leaving an employer typically has four options (and may engage in a combination of these options), each choice offering advantages and disadvantages.:
Leave the money in his/her former employer's plan, if permitted;

Roll over the assets to his/her new employer's plan, if one is available and rollovers are permitted;

Take a lifetime annuity check from company plan, if applicable

Roll over to an IRA; or

Cash out the account value.
Your pension may be one of your largest retirement assets. If you are like most folks we know in Harrisonburg, VA, and around the Shenandoah Valley, the pension decision can be the most difficult to plan around. Options abound, opinions are abundant, and you do not want to make a mistake with a decision this important. 
Your pension can probably be taken as either a life annuity or as a lump sum. If you take the life annuity and you are married, there are many survivor options to consider. Don't make the mistake that so many other people make by taking a lump sum without running the numbers, and definitely do not let an annuity salesperson masquerading as a financial planner convince you to roll your money into an expensive annuity that is difficult to understand.
The lump-sum may be the best option if you are comfortable with market risk, you have saved well over the years, and you prefer flexibility. Take your time before you make the decision to roll over the money.  There is also a benefit to receiving a monthly check from your employer for the rest of your life. So what numbers do you need to make your decision?
First, go onto the pension site and type in your projected retirement date and pull down the values for:
Lump-sum

Life annuity with no survivor benefits

Life annuity with 50% survivor benefits

Life annuity with 100% survivor benefits
With the 50% and 100% survivor options listed above, you are essentially forgoing income now so that your survivor will continue to receive income after you die. In some way, you are essentially purchasing a life insurance benefits from your pension provider. Before you decide whether to rollover the pension, gather all of these numbers, and project how much income you and your spouse will take home with various scenarios. Also, keep reading the next several blogs as we dive deeper into the decision.
Check back next time as we dig into other options often offered, leveling options and PLOPs. If you are fortunate enough to have a pension, then make the most of it!. To download the full "How to Retire from a Large Corporation" eBook you can find it here.
—-
This is the 7th of many blogs we are writing to help you finish strong in life. Much of the content is pulled from an eBook we wrote entitled "How to Retire from a Large Corporation." Click here to download the document. If you would like to discuss any of these topics in more detail, you can schedule a time to talk through this link.