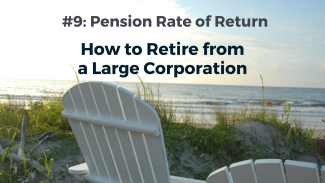 How to Retire from a Large Corporation #9: Pension Rate of Return
Are you like many people we know in Harrisonburg and Rockingham County who are excited about their retirement years, but are overwhelmed by the complexity and all of the numbers in front of you? When should you draw Social Security? How much will healthcare cost? How much will you actually spend in retirement? 
All these numbers are important and you should absolutely get a handle on them as you get closer to the date; but do not get overwhelmed with the complexity of the task. The goal is to stay focused on the big picture and break down your decisions into simple action items.
This blog is the 9th in a series, "How to Retire from a Large Corporation" and is designed to accompany an e-book by the same name.
Are you fortunate enough to have a pension from your company? If so, then you should celebrate, because your children will probably not have the luxury of a pension when they retire. The next few blogs in this series were written to equip you to make the very best decision for you and your family.
Before we dig in, here is an important disclaimer required by our back office: A plan participant leaving an employer typically has four options (and may engage in a combination of these options), each choice offering advantages and disadvantages.:
Leave the money in his/her former employer's plan, if permitted;

Roll over the assets to his/her new employer's plan, if one is available and rollovers are permitted;

Take a lifetime annuity check from company plan, if applicable

Roll over to an IRA; or

Cash out the account value.
Your pension may be one of your largest retirement assets. If you are like most folks we know in Harrisonburg, VA, and around the Shenandoah Valley, the pension decision can be the most difficult to plan around. Options abound, opinions are abundant, and you do not want to make a mistake with a decision this important. 
In our prior posts, we explored the difference between lump sum rollovers and life annuity options. We also dug deeper into "leveling" and "PLOP" Options. Now, we will, determine the internal rate of return (IRR) you would need to earn on a hypothetical investment based on various life expectancies. This math can help you understand the rate of return you would need to earn on invested assets to assure the same amount of income the life annuity provides. 
To solve for IRR, talk to your financial advisor. Or if you feel comfortable with running the numbers yourself, use our Pension Analysis worksheet here and follow the instructions on the form. Once you have the numbers, write them down on the LWM Retirement Worksheet.
This is a simple way to compare the lump sum to the life annuity and shows you the rate of return a hypothetical investment would need to earn to provide the same amount of income to your life expectancy. If you are risk-averse and feel you will live a long life, you may be a good candidate to take one of the life payout options from your company.
Here's an example:  If you assume a life expectancy of 85, the IRR calculation may show that you need to earn 3% on a hypothetical lump sum investment to generate the same amount of income a life annuity pension would provide over your lifetime. If you live past age 85, an investment would need to generate a return greater than 3% for the lump sum to be a better option for you.
To estimate your specific numbers, simply open this worksheet and:
Enter your retirement age

Enter the lump sum amount you will receive if you roll it over, and

Enter the

annual

life annuity payout amount
*Important note: For simplicity, the LWM Pension analysis worksheet is for the life only annuity. With this option, payments cease when you die. Talk with your advisor to discuss your specific needs. 
You will see that the longer you live, the more appealing the life annuity option may seem. 
Check back next time as we dive deep with the lump sum vs. life annuity decision. Are you comparing apples to oranges? If you are fortunate enough to have a pension, then make the most of it!. To download the full "How to Retire from a Large Corporation" eBook you can find it here.
—-
This is the 9th of many blogs we are writing to help you finish strong in life. Much of the content is pulled from an eBook we wrote entitled "How to Retire from a Large Corporation." Click here to download the document. If you would like to discuss any of these topics in more detail, you can schedule a time to talk through this link.