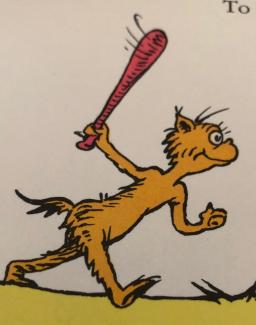 How Would Dr. Seuss Respond to COVID-19?
Fifteen years and three days ago I became a parent for the first time, and ever since I have enjoyed countless hours reading books to my children. Without a doubt, Dr. Seuss books have been a favorite for everyone, including myself. Some of the books that were passed down to us are nearly 70 years old, and by looking at them you can tell that they are well-loved and cherished. 
When thinking about how to respond to the pandemic sweeping across our country and world, I cannot help but think of one of my favorite books, "I Had Trouble in Getting to Solla Sallew."
For those of you who are unfamiliar, a story is told of our unnamed protagonist who has been experiencing hardship everywhere he goes.  The Quilligan Quail is biting his tail…the Skritz are biting his neck…the Skrink is biting his toe. 
He is getting so frustrated when a chap comes along and tells him of a beautiful place named Solla Sallew, "where they never have troubles, at least very few."
The journey to Solla Sallew is long and he experiences many, many trials along the way, but eventually he reaches this magical place. 
Salla Sallew only has one trouble. And that one trouble is a Key-Slapping Slippard who will not let anyone through the door into Salla Sallew. This is a problem!
Beaten and broken-down, he then hears of a new place that is even better than Solla Sallew, "where they never have troubles, no trouble at all!"
So what is our hero to do now?  Shall he venture off to a new land with no troubles at all?
After doing some quick thinking inside of his head, he grabs a baseball bat, confronts his fears and declares "Now my troubles are going to have trouble with me!"
So let's get back to present-day: Quite possibly, these next few months could be a defining moment in our lifetime. Are we going to respond by stocking up on Cheetos and watching Netflix?
Let's face our troubles head on by looking after one another and caring for those most in need. Perhaps you can mobilize your neighborhood to help look after those most at risk.  A friend of mine has much of the Belmont neighborhood in Rockingham County covered and is taking action to lead his neighbors.
Let's be smart in the way that we follow the rules and interact with one another. 
Let's use this as an opportunity to teach our kids, and to use the downtime to connect with them at a new level.
Let's support local businesses by purchasing gift cards and letting them know that we are here for them. Here is a list for Harrisonburg to help you get started
Let's look for ways to help nonprofits and other organizations who are committed to helping those who are most in need. For example, the Community Foundation of Harrisonburg & Rockingham Co. and the United Way of Harrisonburg & Rockingham Co. have teamed up to form a COVID-19 Response Fund.  Learn more about it here.
Let's get our finances in order and use the downtime to tackle important financial decisions that we have been putting off. A trusted financial advisor can help you put a solid financial plan in place, and we would be honored to help when you are ready.
Troubles will come and troubles will go…Whether we face a Quilligan Quail or a scary virus, let's face our troubles head on, you know?