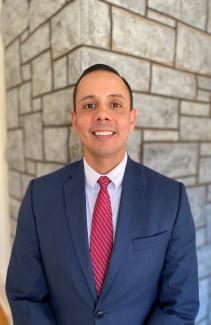 Russ Rodriguez
Assistant
Growing up in the Shenandoah Valley, I spent most of my childhood playing anything that involved a ball.  Baseball was the early favorite, but eventually basketball emerged as my lifelong love.   Athletic competition taught me the importance of teamwork and the joy of taking part in something bigger than myself.
Although I admired many athletes and coaches, my childhood hero remains my mother.  Raising my sister and me on her own, she taught us the value of hard work and showed us how to live selflessly. 
After graduating from Page County High School, I attended EMU where I earned a bachelor's degree in Economics.  Following college, I joined the United States Marine Corps and served honorably for eight years.  After the Marine Corps, I became an elementary teacher at Shenandoah Elementary School and basketball coach at Page County High School. 
My life's experiences have led me to a purpose centered on serving others.  I am truly blessed to serve in the financial industry working with a great team that is focused on putting the needs of others above their own. 
Currently, I reside in Shenandoah with my beautiful wife Katie, our daughters Raegan and Kiley, our son Ryder, and our dog Kobe.  I enjoy playing outside with my kids, family movie nights, reading, and coaching basketball.  My favorite book is Chase the Lion by Mark Batterson and my favorite podcast is Dream Big with Bob Goff.