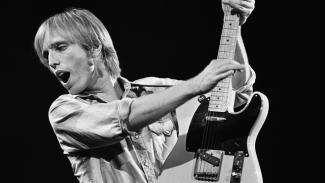 Tom Petty and Warren Buffett Agree...Do you?
We are all "Runnin' Down a Dream" towards the future we want, and we all want to make the very best investment decisions.  By just about any measure, the stock market has been on a roller coaster lately, and dramatic swings in the market can bring concern to every investor.
Back in February and March when the market was "Free Falling", hopefully you hunkered down and did not make any big mistakes based on fear or greed.  Now the market has largely recovered from the March lows. 
As of the time I write this, maybe your portfolio is up a little bit this year, or maybe it is down a little bit, but the guy at the water cooler who works with you cannot help but brag about his massive returns in his portfolio by investing in the latest, greatest stocks or funds. Wait a second? What is he doing differently than you did generate these big returns? 
Don't get caught in the trap of chasing high-performing investments.
Twenty years have passed since the dot com bubble and bust. In the late 90s, tech stocks were in favor despite the fact that many of these companies did not have profits. Value companies with solid fundamentals were largely ignored by Wall Street.  The late 90s were really tough years for Warren Buffett. Berkshire Hathaway under performed for several years as his value investing style was left in the dust as investors bought tech stocks hand over fist. In 1999, Berkshire was down 20% while the S&P gained 21%. A December 1999 Barron's article lead with the headline "What's Wrong Warren?"
But Warren was resolute. I can imagine him having lunch and drinking a Coca-Cola and boldly declaring "I Won't Back Down" from my investing beliefs and will continue to purchase companies with solid fundamentals. 
Of course Warren was right. Three years later Berkshire Hathaway was up 36% while the S&P was down 37%. The high flying tech companies were down even more. These investors who were chasing big returns were "Learning to Fly", but they soon found out that coming down is the hardest thing. 
Successful investors don't chase returns. They determine their investment philosophy and stick with sound principles that have held up for decades. 
Back in 1999 as everyone was telling Warren he is washed up, I am sure those years were very difficult for him.  When all of the "experts" were telling him he was washed up, he may have felt that "THE WAITING IS THE HARDEST PART", but he was resolute and believed in the fundamentals.  You should be like Warren, not like the guy at the water cooler.
Life is full of opportunities.  Life is too short to chase the latest-greatest investments, that may very likely disappoint.  Head "Into the Great Wide Open", and plan your financial future with confidence
--
For more helpful content, please visit our blog page or video page on our website for similar articles or videos to help you plan.  We also have created guides free for you to download, such as Five Tax Strategies Retirees Often Overlook and Six Mistakes Grandparents Often Make