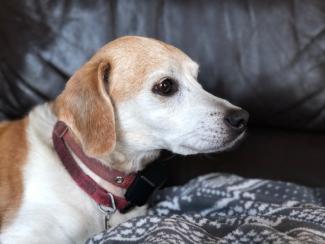 What Do Lost Dogs and Beneficiary Designations Have In Common?
We have two amazing dogs. A 16-year-old Beagle mix we found years ago, and a six-month-old Boston Terrier that brings new life to all of us. An underground fence keeps these dogs safe in our yard… most of the time. 
If you've ever owned a Beagle, you know that they love to chase squirrels, rabbits, and just about anything else with four legs. Our dog Tilley is no different, so when she saw a bunny a few years ago, the underground fence couldn't stop her. All of the sudden, Tilley found herself outside of our yard and away from our home.
Thankfully, after a long search, we found Tilley accompanied by a neighbor who was looking for the owner of our precious dog. But wait… we wrote our phone number with a permanent marker on Tilley's collar many years ago. Why couldn't this kind stranger simply call us instead of searching the neighborhood?
As it turns out, permanent numbers written on collars don't always last. They wear and get blurred over time so the digits cannot be read. This was the case for Tilley; the good Samaritan had no way of locating us without a search.
Thankfully, we reunited with Tilly after a few hours, despite our oversight in ensuring that her dog tag included a phone number to aid in her safe return. Although it would've taken us very little effort to update and maintain the dog tag, Tilley could've been lost forever due to our inattention to detail. 
We find that beneficiary designations are very similar. Few things in the financial world are as simple as ensuring your beneficiaries are correct. Many times, they can be updated online with a few clicks or by filling out a simple form.
Although updating beneficiaries can be simple, the duty can often slip through the cracks with errors not discovered until it is too late. Your money may end up going somewhere other than where you want it to go, which is simply not right.
Don't make the same mistake that we made years ago with Tilley. We failed to do some simple updating that would've protected someone we love. 
Take the time today to make sure your beneficiaries are correct. We would be honored to have a conversation to talk about what is most important to you. To schedule a meeting or introductory phone call, please click here. We also have created a guide free for you to download here: 6 Mistakes Grandparents Often Make that includes tips on how you can avoid them.